Our county's first national monument remains one of its most spectacular. Looming as large as the legends of the West, Devils Tower is as rich in history and geology as it perspective. A full day (or two or three) of hiking, sight-seeing, photography and even climbing is just an hour's drive from Gillette.
Taste may be a personal preference, but we're confident that we're in good taste with everyone. As an up-and-coming regional foodie destination, we have the food and drink that fits into itineraries for even the most particular visitors. Our local fare is handcrafted as precisely and thoughtfully as our natural resources, and we think you'll find the results equally as powerful.
The Energy Capital of the Nation is powering the country while preserving the pristine backdrop of wide open Wyoming. Campbell County produces more than 30 percent of America's coal, but what's truly special about Gillette coal is its low sulfur content, which makes it a much cleaner form of coal. Stop in the Visitor Center to get directions to an open pit coal mine overlook near Gillette.
4. Historic Downtown Tours
Pick up a Downtown Walking Tour brochure at the Visitor Center, then head downtown to Gillette Avenue to see and learn about the history of the various buildings and locations. This is a very enjoyable summer activity – plus you are surrounded by unique restaurants, bars, breweries and a meadery, if you get hungry or thirsty.
This is actually the home where the buffalo roam — more than 2,500 of them. Established in 1965 by John Flocchini, this famed estate has been integral in conservation efforts of the species and is a Wyoming staple in the ranch community. Tour the grounds to see the Cowboy State mascot in its natural habitat, what it means to raise livestock holistically and just how hard a ranch hand works. Be sure to schedule time to eat at a Wright restaurant to taste the experience.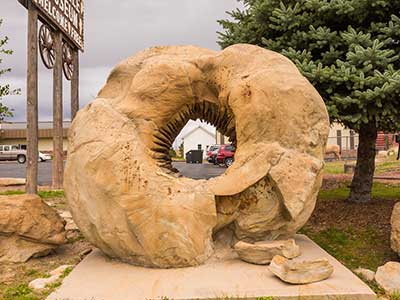 Take an afternoon and explore our museums for a glimpse into Western lore with the Rockpile Museum, Frontier Auto, Wright Centennial Museum and Campbell County Adventurarium to sample art, history, culture and more. Families, kids and travelers unfamiliar with the area will discover secrets about the area only local knows with legendary stories to bring home.