Gillette isn't your typical energy town. Preserving Wyoming's natural beauty with an economy supported largely by coal mining is a delicate balance that local businesses, officials and residents have been practicing for years. This process includes the obvious physical reclamation and restoration processes, but it also means that the town must have healthy and robust businesses outside of energy.
Because of the obvious tourist appeal of a scenic Wyoming town in the middle of some of the country's most visited attractions like Yellowstone National Park, Devils Tower and Mount Rushmore, high-quality dining became a necessity. As the town gradually transitioned from its reliance on coal, several new restaurants popped up across the community beginning in the early 2000s. Balance between high quality ingredients, service, menu, drink options and atmosphere is challenging, but several local entrepreneurs have figured it out, and the results are mouthwatering.

The city has quickly become a foodie destination for tourists visiting these famed landmarks who are looking to experience food and drink as spectacular as the scenery. And Gillette has delivered. New breweries, pizzerias, steak houses and ethnic restaurants have changed the city's landscape. But in the midst of all of this change, one restaurant has stayed the same. With consistently outstanding food, drink and service over the past three decades, The Prime Rib Restaurant and Wine Cellar has thrived.
"I feel like our biggest success here is our longevity. It's easy to be good at something for a short period of time. But to evolve and endure the ups and downs of economies and keep standing out among competition — that's easily the most important thing we've done. I'm most proud of that," Ken Barkey, President and owner of The Prime Rib Restaurant and Wine Cellar, said.
Ken is originally from the east coast but adapted easily to the Wyoming way of life after moving here in the 80s to take a management position for Ed Vanscoy at The Prime Rib Restaurant. Vanscoy had transformed a Country Kitchen into Gillette's premier steak house and brought Ken on to help run the restaurant. Ken quickly fell in love with the Wyoming way of life where everything was outdoors and everyone was your neighbor. Then in 1989, Ken moved back east to pursue a career as a professional triathlete, but after two years, the Wyoming mountains called him back.
In 1991, Ken bought the restaurant from Vanscoy, and with his purchase, Ken inherited the Prime Rib's pristine reputation of outstanding service, food, drink and atmosphere, something that he helped Vanscoy build. His only plan with ownership was to make something great even better.
"We've evolved over the years, but we didn't change a lot. We're not a chain. We're an independent restaurant that isn't going to ever be anywhere else. We know what fits Gillette, and that's what we're trying to do," Ken said.
Like the city's dining scene, the menu is surprisingly diverse. With more than 80 entrees and 20 appetizers, there's truly something for everyone. Some dishes are extravagantly gourmet, like the boneless Short Ribs which features a marinade inspired by the famous New York Chef Daniel Bouloud. But others are scrumptiously familiar and are designed to fulfill the request of a regular who was looking for chicken fried steak as good as Grandma's.
"We try to say 'yes.' If the customer wants to change something or do something differently, we do our best to make it happen. If someone really likes something, we try to find a way to include it. Most chains have around 12 entrees and six appetizers, because it makes more sense. But we're here to give our customers what they want," Ken explained.
Even with the astounding variety and quality of his food, Ken credits service for the restaurant's longterm success. Gillette is full of friendly, welcoming locals ready to help change a stranger's tire or buy an unfamiliar face a glass of wine, which was one of Ken's primary reasons for returning to Gillette and raising his family here. Friendly service is the town's standard but knowledge is harder to come by.
In an industry rife with turnover, Ken has managed to assemble a veteran staff who all share his vision of always finding ways to tell their customers 'yes,' which is largely due to the familial work environment he's created. All three of Ken's kids worked in the restaurant throughout childhood, and now one of his sons, Sam, is the head manager. So employees like Kelly, a bartender for nearly 30 years, and Chef Brad who has worked for Ken for more than 15 years, helped Sam and his siblings shuck shrimp as young kids.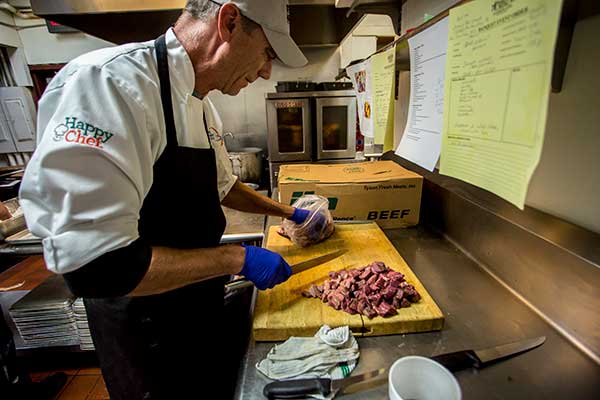 "We give out comment cards to customers, and they're usually about the service. Most of them say how much they loved Joanne, a server that's been here forever, or how great so-and-so was. I have stacks of them," Ken said.
There are several employees who have well over ten years of experience on Ken's staff, which is probably the minimum amount of time it takes to master his renowned wine selection. Autographed wine bottles cover the walls of the restaurant, and this display is just a taste of how vast the collection really is. The Prime Rib Restaurant has been annually included in Wine Spectator Magazine's exclusive Best of Award of Excellence for around twenty years, a list that recognizes just 1,200 restaurants across the globe.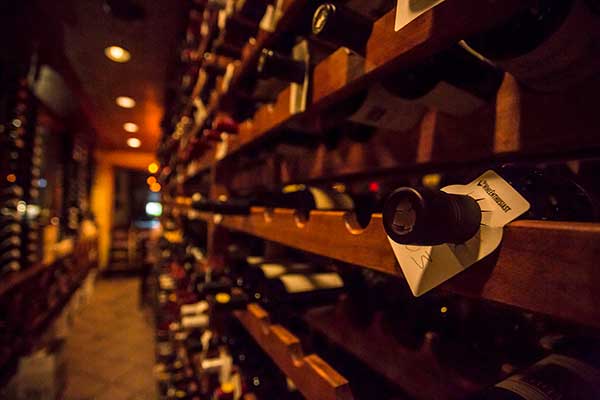 The Prime Rib's wine list is easily Wyoming's biggest, and as the Wine Spectator distinction proves, is on par with high end restaurants in major metropolitan cities. Ken's wine collection has been a pursuit throughout his adult life, and it's resulted in a catalogue that ranges from $15 to $15,000 a bottle. Though it's become the restaurant's calling card, acquiring, storing and maintaining that much wine isn't actually all that helpful for Ken's bottom line.
"Having that much wine is not profitable. It sounds really stupid that we would even do something like that, but it's something we've been interested in for a long time. It's a hobby, so that's why it makes sense to me," he said with a laugh.
His personal collection is just as exceptional. Ken and his wife frequently entertain at their Gillette home, which usually involves dipping into his basement wine cellar for at least a couple bottles. Although there's much overlap between what he carries at the restaurant and his home, his "collection wines" are reserved for his private cellar. His oldest bottle is a 1931 homemade wine from New Hampshire, and he has other collectibles going back as far as 1959. Among his most notable labels is a Domaine de la Romanée-Conti, a French wine considered a crown jewel among collectors.
"We're far from wine snobs here, regardless of all the crazy stuff we have, a great bottle of wine really does enhance a meal, whatever it is that you consider great. We're here to give you what you want," he said.
Which is the same philosophy Ken applies to his personal collection. In addition to his premium wines from Hungary, Australia, Italy, France, Napa Valley and other famous vineyards across the world, Ken has wines from Prairie Berry, a small vineyard nearby in South Dakota. He also collects 2014 wines, the year his grandson was born and he married his wife, Traci. He's interested in variety and sharing a good bottle of wine over a good meal, whether that means a Château Margaux or Moscato.
Sam Barkey describes The Prime Rib Restaurant as a "working man or working woman's atmosphere." You might feel like you're having dinner over at a friend's. It's relaxed yet you're being treated. It's gourmet yet it's comfortable. And most importantly, it's authentic. When you ask your expert server which wine you should pair with your entree, you won't get an "expert" answer. You'll get questions about your taste, your price range and your history, because it's all about getting you what you want. So embrace the Wyoming of your visit and order a filet. Or order a California Cobb salad. Pick Caymus Napa Valley Cabernet Sauvignon 1994, 1995 or a Sutter Home White Zin. Getting what you want is what will make your meal. And Ken wouldn't have it any other way.