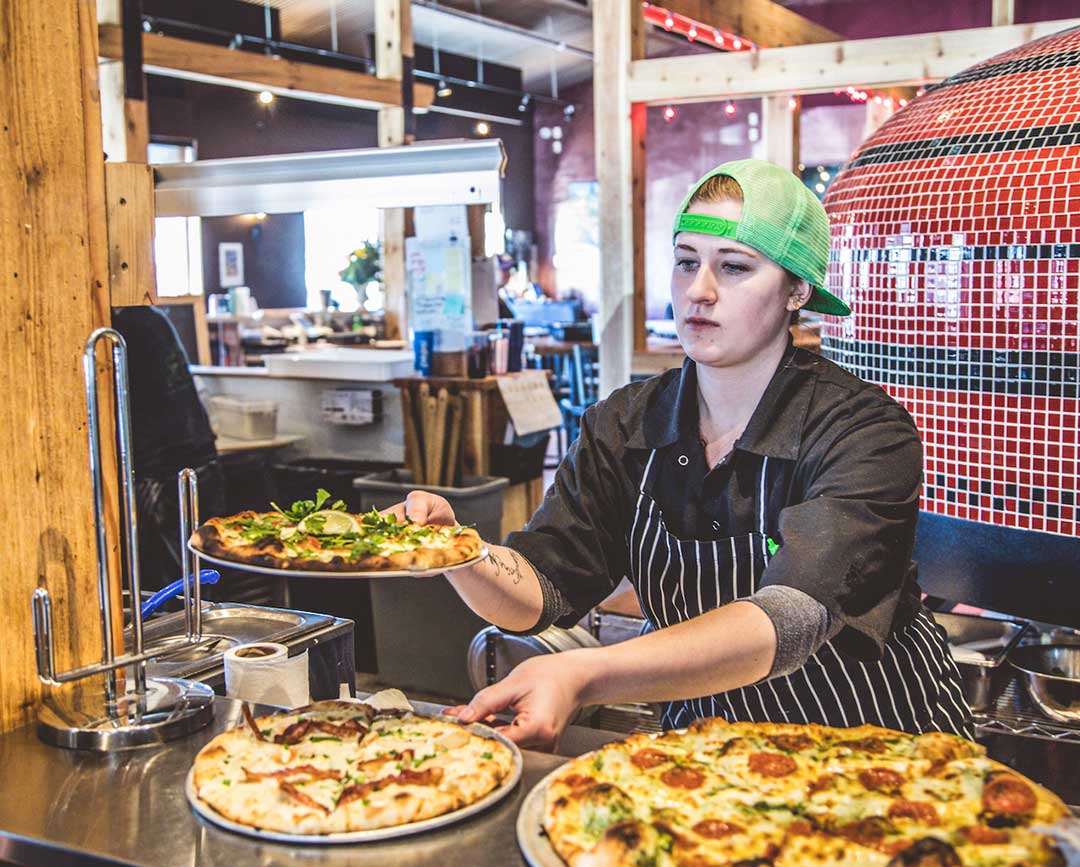 Pizza Carrello's is a love story — love of food, love of art, love of hard work, love of community and most of all, love of people. It all begins with co-owners Ariane Jimison and Rachel Kalenberg, who exquisitely harmonize one another. Ariane is the company's head chef, so she's responsible for creating the unexpected culinary masterpieces that the restaurant is famous for like the Dazzle Berry Pizza with house made ricotta, seasoned arugula and a spicy jalapeño raspberry compote drizzle. She's loquacious, excitable and a wild dreamer. Rachel, on the other hand, is reserved, practical and meticulously organized. As the company's Chief Financial Operator, one of Rachel's many responsibilities include executing Ariane's unconventional ideas on time and within budget. She manages ordering, human resources, payroll and essentially every other operational function. Ariane may be the inspiration and voice behind their restaurant, but she credits Rachel for its success. But this isn't their love story; it's Pizza Carrello's.
It's easy to fall in love with Pizza Carrello. Everything revolves around the gigantic, bright red wood-fired oven in the middle of the 140-seat dining room. Every dish has some wood-fired component with charred greens in salads or the pita bread wraps that come directly out of the oven. You haven't experienced a jalapeño popper or a meatball until you've tasted one that's been wood-fired. Children squeal in delight at the cooks tossing pizza dough in the air, and customers can see the stunning variety of exotic cheeses, pizza toppings and salad garnishes. There's a full-service bar with handcrafted drinks that pair with each pizza, and endings don't get any happier than Ariane's made-from-scratch cheesecake.

But like any great love story, it wasn't always so easy for Pizza Carrello. There were trials, tribulations and Ariane's zealous opposition to pineapple on pizza (the pineapple won, now featured prominently on The Islander). From its humble beginnings as a homemade trailer to its search for a permanent home and a ground-breaking marriage along the way, Pizza Carrello has seen its ups and downs. But there's always been one constant — the endless support from the Gillette community.
Before she met Rachel, Ariane had two great loves in her life: art and food. After high school, she decided to pursue a career as a potter, and for years, it was a good living. It also led her to Rachel after Rachel's brother Herb, a fellow artist, introduced them. Rachel was born and raised in Gillette, and Ariane had moved there in high school, so this was home for both of them and where they planned to build their future together.
It seemed like they'd figured life out until 2008 when the economy crashed. As proud as she was of her work, Ariane realized that struggling families weren't going to be buying handmade pottery anytime soon, no matter how beautiful her craftsmanship. For a few years, she kept trying to pursue the trade, supplementing her income with other jobs and selling homemade bread on the side, as she never lost her zeal for food. It was during a music festival in 2011 when an idea struck Ariane. She and Rachel had sold a total of two pieces of pottery all weekend during the Beartrap Summer Festival in Casper, Wyo., and hadn't made enough to recoup their booth fee. Meanwhile, directly across from them, a hot dog vendor earned $6,000 in profit. Ariane's mind began spinning.
Pottery wasn't that much different than what this hot dog vendor was doing, she reasoned. Making art and making food are both self-expressive, require imagination and are difficult to do well. They also empower the creator to help the recipient feel something, whether that was comfort to nostalgia to something more challenging, but love was always at the foundation. In that moment, Ariane decided to move on from pottery as a profession — sort of. She would still use a kiln, but now it would be for making pizza. She was so inspired that she had to make the first sketch of the oven she was envisioning with a ketchup packet on a napkin since she couldn't wait to find a pen. By that night, Ariane was consumed. She was making plans to take Pizza Carrello international with a pizzeria next to every McDonald's.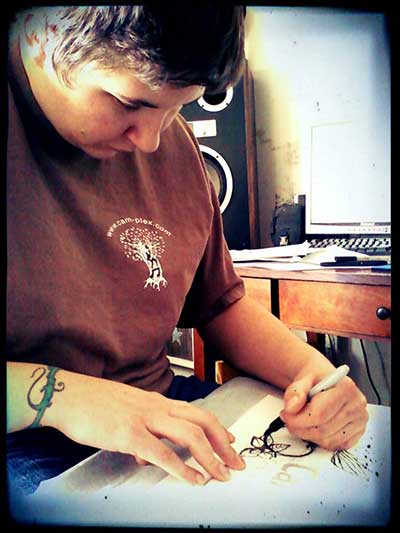 Meanwhile, Rachel spent that night researching loans to figure out how they could turn $400, which was all of their savings, into a business. She had always supported Ariane's "pottery habit," as she fondly referred to it, and from that first ketchup sketch, Rachel was just as committed to Pizza Carrello. She eventually found a local bank who was willing to take a risk on a crazy business plan from an unproven couple, and their $400 in savings became a $4,000 loan to build a pizza trailer. Using scrap metals they scoured up around town, Ariane taught herself how to weld while Rachel worked two jobs. After six months and many hours of grinding to correct her welding mistakes, Ariane eventually managed to build a wood-fired oven on a trailer. In March 2012, they took Pizza Carrello to the streets of Gillette.
Stacie McDonald is a self-proclaimed foodie with an especially fiery passion for brick-oven pizza. She's a Gillette native who never wanted to live anywhere else, but she would have to travel for food experiences since her hometown didn't have any restaurants that wowed her. Although they didn't know each other yet, Ariane was doing the same thing.
"We were regularly driving out of town to eat. So we started thinking, what if we were able to bring food to Gillette that was so good that it would change the whole restaurant culture here? We wanted to set a standard that was so high that other places would have to step up their game just to stay competitive," Ariane said.
When Stacie stumbled across Facebook posts from a former artist who was trying to build her own custom wood-fired pizza oven, she was skeptical. It seemed too good to be true. But she followed the woman's progress, and when the announcement came that the trailer was ready to go and pizza would be served, Stacie was one of the first people in line. After her first bite, she knew Gillette's food game had changed.
If you start with something good, the rest is easy. Ingredients first has always been Ariane's cooking mantra, and Stacie immediately tasted the difference in quality. Ariane refuses to cook with anything but the absolute best. That ranges from prosciuttos to cheeses to the flour in her dough. Pizza Carrello sauce uses San Marzano tomatoes as its base, which are so sweet and flavorful that there is no added sugar or salt. Ariane's distributor had never heard of San Marzano tomatoes until she requested them, and although they cost more and are harder to find, she wouldn't accept anything else. After all, if this food was going to be her representation of how much she cared for the person eating it, it would be disingenuous to use anything less.
Stacie and the rest of Gillette were in love. Ariane would post her location on Facebook, and it was a race between Stacie and the rest of the Pizza Carrello Cult Followers to see who would get pizza before they ran out of dough. But like most summer romances, it felt like there was an expiration date, and the cold temperatures threatened to end Gillette's affair with Pizza Carrello.
The traveling pizzeria was originally supposed to be a summertime source of income, and Ariane would spend winters making pottery. But her food was bringing such joy to the community she cherished. It had built friendships with former strangers like Stacie, and it had ruined "regular" pizza for hundreds of her patrons, which is Ariane's favorite compliment. Herb, Rachel's brother who had introduced them, had joined the team as the other lone employee, meaning it was truly a family affair. So rather than hanging up their aprons, they put coveralls on underneath, and they endured negative temperatures, hurricane-strength winds and frostbite all to bring pizza to the people. The trailer became a makeshift drive through; customers would order from their car windows, and Ariane or Herb would deliver the pizza when it was ready, since turnaround time was only a few minutes from the wood fired stove. They closed shop when the hand washing water froze.
"In the beginning, it seemed impossible. It was like you were at the base of Mount Everest standing barefoot. You had nothing, but you knew you wanted to climb this mountain and do this thing," Ariane said.
Their working conditions made Mount Everest seem tropic on some days, but they kept fighting. Despite all of their efforts and their fiercely loyal following, high-quality ingredients and the trailer's small work capacity meant that profit margins were still relatively small. Ariane and Rachel were only making enough to keep their dream alive.
"It was all about those internal paychecks, because for years, we didn't take any kind of pay. You're struggling and working your butt off, and you're questioning if it's even worth it. But then you have one amazing customer who tells you how we ruined pizza for them, and that means that we did more than just make a meal for someone. Our biggest motivation was always to make our community better and provide something that everyone can be proud of," Rachel said.
After a few more seasons on the trailer, their esteemed reputation led to a partnership with a local brewery, and perhaps best of all, got them inside and out of the Wyoming winters. While this was a hugely successful step, Ariane and Rachel's dream was always to own their own space, so they catered on the side to keep building their savings. A few years later, they found a good deal on a small building, and it seemed like all of their sacrifices were finally paying off. But during the remodel, they discovered serious structural issues with the property. The couple was devastated.
Rachel's mother often told them that a business is like a marriage — easy to get rid of but better to keep. And it was with this attitude that Ariane and Rachel faced challenges in their professional and personal relationship. They came together as a couple and as business partners because they both wanted to make the world a better place. And what better place to start than their home town?

Growing up in the wake of Matthew Shepard's murder, Ariane felt that she had to leave Gillette to be able to come out as a lesbian. After she graduated, she moved around the region to pursue life as an artist, and it was during this period that she was finally able to accept herself. When she came home to Gillette, she met another local artist who introduced her to his sister, Rachel. Just like Pizza Carrello, their relationship started small and blossomed into something great. Ariane may have had to leave to find herself, but she came back to become whole.
When they finally accepted that the property they bought wasn't going to work, an opportunity unexpectedly arose, almost as if Gillette knew they needed a break. In 2016, a different local brewery closed, and the buildings' owners reached out to see if Pizza Carrello would be interested in that space. Ariane and Rachel knew it would take dozens of Ariane's crazy ideas and Rachel's careful execution of them to make it, but it quickly became clear that this was the break they had been fighting for. A few years, many renovations, several of Herb's paintings on the walls and now with more than 40 employees, Pizza Carrello found its soul mate location.
"People are really surprised that we have this restaurant and that it's successful in this town. We have all walks of life come through our doors, and nobody really cares that we're a couple. Our whole town has supported us," Ariane said.
They both believe in the fundamental good of Gillette, but naturally there are exceptions. They were heartbroken when someone carved the derogatory, hurtful and homophobic slur "bull dyke queers" into one of their new wooden dining tables that they had worked so hard to pay for. But Gillette was there to pick up the pieces.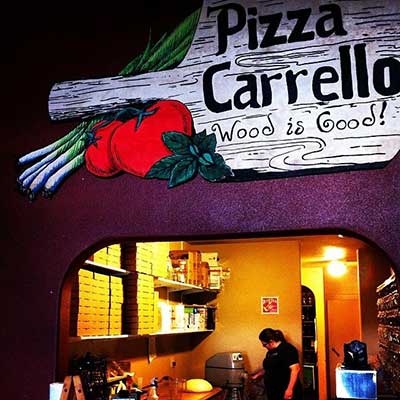 "I posted it on Facebook, and I said, 'If you were in our restaurant tonight and know who did this, please let us know so we can take care of it properly.' It went wild. More than 30,000 views in a few days. It was the biggest post we'd ever done, and the next day there was a line of people out the door," Ariane said. The post not only led to the high school kids responsible, but more importantly, it brought the community together. The next two weeks were some of Pizza Carrello's busiest ever, with dozens of brand new customers who came in just to show their support for Ariane and Rachel, even if they were strangers.
"The big, loud statements that you hear are not the majority. It's just that the fringe is noisy. All of Gillette told us they were sorry this happened, and the response proved that this wasn't acceptable in our town," Ariane said. Revenues went up by $4,000 more than average, so Pizza Carrello responded in kind by donating all of that money to Wyoming Equality and the Gillette Refuge Center, an organization that assists domestic abuse survivors with finding new homes.
Rachel challenges Gillette's typecast as a backwards, antiquated small town. "I think people are shocked when they find diversity in Wyoming. But there are a lot of diverse people and a lot of different things going on in our communities. While everyone has their own opinion, people really want to talk about things and learn from each other. Random people will come to us and say, 'oh my gosh, I love your pizza' or 'oh my gosh, I'm so happy you guys got married,'" she said.
Pizza is love for Ariane and Rachel. And it's through their pizza that they plan to find their way into your heart, as well. Every meal from Pizza Carrello is crafted for the single, special person who ordered it. When she gets a ticket from the wait staff, Ariane will peek out into the restaurant to see the table. From there, she'll often make assumptions about how much pepperoni you would want or if she thinks you'd like extra cheese. Of course, she's not always right (unless you're one of her regulars, and then she knows exactly how to build your perfect meal), but she will always try because it's how she shows that she loves you.
"You're going to make a product by hand that takes two days to ferment, and then put that in a wood-fired oven that you had to chop the wood for. You're caring about the oven and fire, and you're caring about the dough and the quality of ingredients. Why in the world would you go through all of that madness if you didn't love the people who were going to get it," she said.
While they're finally taking home an actual paycheck, Ariane and Rachel continue to work for the internal ones. And one of their biggest rewards is that they, along with a handful of other outstanding restauranteurs and chefs, have made Gillette into the foodie town Ariane, Rachel and Stacie fantasized about. High quality ingredients expertly prepared is now the Gillette standard and not the exception. And making it all with love is the Pizza Carrello way.