Like any diamond in the rough, there's much more to Gillette than meets the eye. Here are a few of our favorite places to check out during your stay.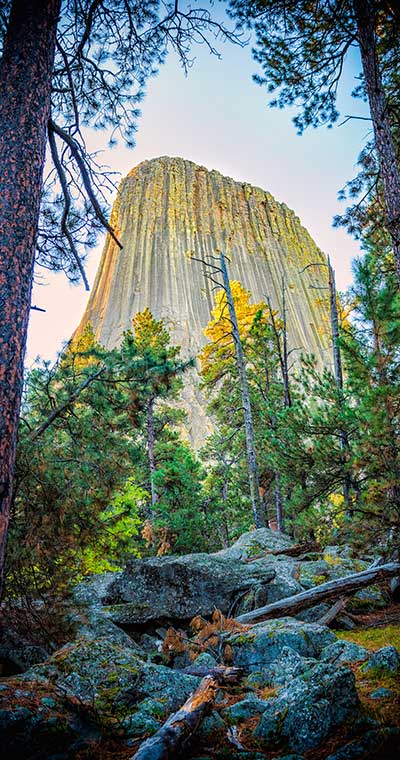 Devils Tower National Monument
Rising 1,267' above the Belle Fourche River, the mythology surrounding Devils Tower, the country's first national monument, is as grand as the formation itself. According to Kiowa and Lakota tribe legend, seven young girls were playing outside when they spotted a sloth of large bears. Terrified, the girls ran and climbed on top of a large rock where they fell to their knees in prayer, asking the Great Spirit to save them. The Great Spirit took mercy and grew the rock high into the heavens. The bears furiously climbed and pawed up the rock after their prey, scratching everlasting claw marks deep into the rock, but it was too steep. Eventually the rock took the girls all the way into the sky, where they became the seven stars of Pleidas, and their sanctuary rock remained as a towering reminder of the Great Spirit's power.
Given the great debate about Devils Tower's origins within the geological community, this legend seems plausible. Scientists agree that Devils Tower was formed by the intrusion of igneous material, but the process that took place has never been agreed upon. Among other theories, some geologists speculate that it's a volcanic plug, while others argue that it could be an eroded remnant of a laccolith (a mushroom-shaped mass of igneous of rock that intrudes layers of sedimentary rocks but does not reach the surface).


It's significance has been observed throughout history, and in 1906 President Theodore Roosevelt declared Devils Tower America's first national monument. It has been a Western vacation Mecca ever since, and you'll never forget the first time you see it from your car window. Up close, it's even better, and it's all just 60 miles east of Gillette.
The park is open every day outside of Christmas and New Year's, and it's spectacular in any season. You can choose to explore at your pace and hike the eight miles of trails, or take a ranger-guided tours are available for some expert insight into the area's wildflowers and animals. But don't leave before the sun goes down. When you're experiencing the park beneath the Wyoming stars at one of the park's special night viewing events, the Native American explanation of the land and Pleidas makes perfect sense. You'll feel nature's magic at work.
Learn about hours, tours and more at https://www.nps.gov/deto/index.htm.
As one of the nation's top coal-mining sites, we've proudly earned the moniker Energy Capital of the Nation, and it fuels our way of life here. Wyoming coal is a secure, abundant and affordable source of energy that accounts for more than 13 percent of the U.S. domestic electric power generation. While other regions of the county may have abundant resources, we are at the center of nation's coal production because our coal has low sulfur composition, making it a much cleaner form of energy. Additionally, mining here has lower production costs due to the coal's proximity to the group, and our recoverable coal seams are world-class. Mining is a fast- paced, sophisticated field, requiring highly skilled labor that is fascinating to watch. Up to 80 unit trains leave the Powder River Basin daily, and coal is mined at a staggering rate of of 12 tons per second.
The Wyoming landscape provides us not only with resources and economy, but it's also our source of recreation, beauty and pride. This land is our home, so restoring it for today and future generations is of the utmost importance to us. Reclamation by Wyoming coal mines are considered the industry's gold standard (no surprise given the scenery), and the process is managed and executed by highly trained specialists employed by the mines, completed contemporaneously in a multi-stage process once the recoverable coal is removed. These stages include backfilling the void with overburden, replacing topsoil and preparing the surface and monitoring plant growth and fauna populations. But this complex operation goes beyond just restoring controls and reseeding native plant species. Reclamation specialists strive to build sustainable natural ecosystems, including re-establishing water features and storage in reclaimed streams and water bodies, replacing sage grouse breeding grounds, establishing mosaic patters in grassland and shrubland reclamation, replacing prey base habitats for eagles and other predators and reconstructing prairie dog towns. No one has more to lose than the people who call this place home, so rest assured that we're going to take care of the land that takes care of us.
You can't fuel the nation on an empty stomach. Our coal may be the most famous Campbell County export, but our food is coming in at a close second. As a regional foodie destination, your visit to Gillette will be deliciously satisfying, and we know you'll love what we have on the menu.
If your visit to town includes a romantic dinner, everything pairs with Wyoming's most extensive wine list at Prime Rib Restaurant and Wine Cellar and the steak lives up to the name. Cap your night off with mead, the drink of the Gods, at Big Lost Meadery. If you need a break from the kids fighting in the back seat, one of our two local pizzerias will be a welcome distraction for the whole family. Pizza Carrello is famous for its giant, fire-engine red oven that churns out blazingly original wood-fired pizzas, like the Dazzle Berry (Try it. Trust us). Gillette Brewing Company and Gone Postal Pizzeria is home to the national-award winning Locomotive Brown Ale that goes well with everything, really, but especially the wings. Are you family's tastes split down the middle? Please everyone at Armando's Taco and Pasta Shop and avoid having to take sides. The Coop's South American chicken dishes are bursting with flavors with plenty of options that won't burst your waistline on vacation.
Handcrafted is our specialty, and these are just a few of our options. Check out our complete list of options on our dining page. Your research will make your stomach growl and mouth water, so be sure to book your hotel here.