Discover Our Area's Rich History
Rockpile Museum - Collect, Preserve, Educate
Discover the fascinating history of Campbell County and northeast Wyoming and learn the story of the Powder River Basin. The Campbell County Rockpile Museum collects, preserves and interprets local and regional history with an emphasis on the culture and people of Campbell County, Wyoming. Permanent and changing exhibitions along with educational programming, performances, and events provide insight into the interesting past and present of the area.
Admission:
Admission to the museum is free, however, donations are accepted and appreciated. The museum is handicap accessible and open to the public. The museum is open from 9 a.m. to 5 p.m., Monday through Saturday, except for holidays. Bus & RV parking available.
Frontier Relics & Auto Museum - Historians & Pickers Rejoice
The Wandler family has been picking, collecting and restoring classic cars, gas pumps, petroleum signs and just about every other relic they can get their bid in on since 1962. The Wandler collection became so big that Jeff Wandler, his daughter and son-in-law opened a museum to display their amazing collection. And they didn't stop there. The Wandlers have expanded and Frontier Relics & Auto Museum now spans nearly a half block and houses everything mentioned above as well as a complete, early 1900's barber shop, a coffee shop, a library and a historic hotel front desk. Frontier Relics is an antique-enthusiasts dream come true. They will buy, sell and trade antiques. The attached museum is absolutely a must-see when visiting Gillette. The care and detail the Wandlers put into their restoration projects is simply breathtaking.
Hours:
Monday-Saturday 10am-5pm.
Admission:
Adults $10.00, Kids (12 & Under) FREE, Seniors (65+) $8.00, Military $8.00, Groups (5+) $8.00 per person.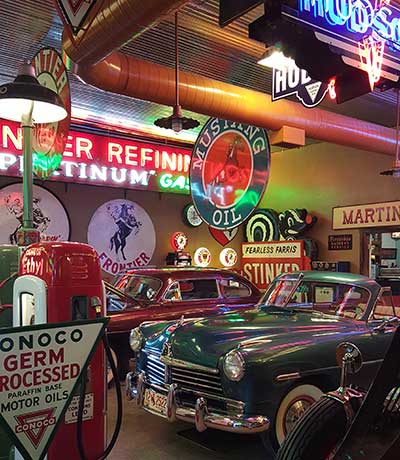 Wright Centennial Museum - Area Legends & Lore
The Wright Centennial Museum, in Wright, provides a unique opportunity to witness Wyoming history spanning from the homestead era to the beginning steps of Wyoming becoming the nation's Energy Capital!
A dedicated group of volunteers has compiled an impressive collection, laced with local legends and lore. From the kitchen and cook stove of pioneer women to the cowboy's kitchen on the range, the chuckwagon, the museum delivers an interactive opportunity to visualize the stories of Wright and the Bighorn Basin. A knowledgeable team is on hand to answer questions and loves to share the fun tales that accompany many of the museum pieces.
Open May through October. Admission is free, but donations are appreciated.